Located at 139th & Wyandotte in south Kansas City, the SL&G Yard-waste and Recycling Center processes a million pounds of organic material every year to make great mulch and soil amendments. We carefully monitor the composting process each step of the way. First, the organic materials are double ground in a1000 horse power HOGZILLA tub grinder.
Next we blend the wastes together to achieve the ideal carbon to nitrogen ratio. Once properly blended, the material is hauled to fields where it is laid out in wind rows so it can be turned and watered. We monitor temperature and nutrient levels and make certain the organics go through the four stages of the decomposition process. Finally, the finished product is screened to remove any particles larger than 3/8 of an inch.
YARDWASTE RECYCLING
139th and Wyandotte
Kansas City, MO
Phone: 816 941-2438
HOURS
March 14 – Nov. 1
M-F 7:30-6
Sat. 8-5
Sun. 10-5
Nov. 2 – Nov. 30
M-Sat. 8-5
Sun. 10-5
Dec. 1 – March 13
M-F 8-5
weather permitting
Closed Saturday & Sunday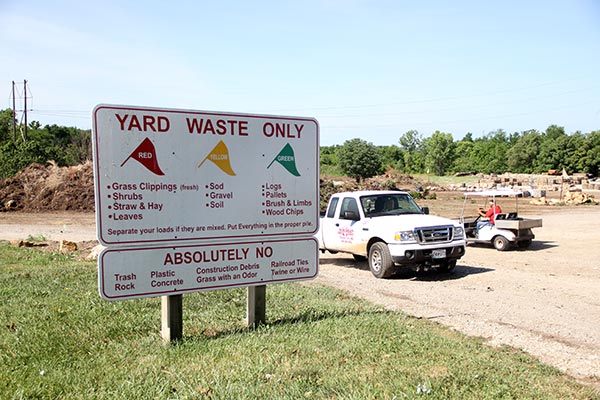 WE ONLY ACCEPT YARD WASTE!
Shrubs
Sawdust
Wood Chips
Lumber–(Untreated)
Limbs
Christmas Trees
Straw & Hay
Grass Clippings
Garden Waste
Leaves
Brush
Dirt