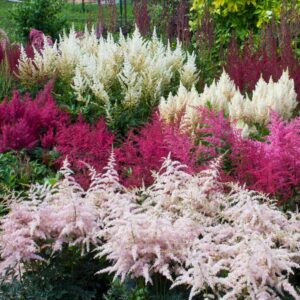 Astilbe is a perennial growing in popularity. It comes in may varieties with a unique feathery plume of flowers ranging in color from reds, many shades of pink, white. A few varieties have peach or pale lavender flowers.
The dense canopy of a shade tree provides a cool hideaway on a hot summer day. What it doesn't provide is enough light for grass and many flowers to grow, but don't get discouraged! With these plants, you can have your shade and garden too. Keep in mind that many shade-loving plants will not have the same large blooms sun-lovers generally have. Add interest by combining different foliage textures and colors.
Most varieties do best with filtered/dappled light, those marked with an askterisk (*) will handle dense shade, though they may not bloom as much.
Usually bloom best with some morning sunlight or filtered light. May not bloom in complete shade.
Begonia, Novelty, Tuberous or Traditional Bedding
Browallia
Caladium
Coleus, Shade Varieties
Fern, Boston
Fern, Kimberly Queen (Can also take Sun)
Fuchsia
Hypoestes (Polka Dot Plant)
Impatiens, New Guinea or Traditional Bedding)
Purple Spiderwort (T. zebrinus)
Streptocarpus (Streptocarpella)
Torenia (Wishbone Flower)
Acorus (Sweet Flag Grass)*
Aruncus
Astilbe*
Bergenia*
Brunnera*
Carex (Sedge)
Dicentra (Bleeding Heart)*
Epimedium (Barrenwort)*
Helleborus*
Heuchera (Coral Bells)
Heucherella (Foamy Bells)
Hosta*
Ligularia*
Perennial Ferns*
Polemonium (Jacob's Ladder)*
Polygonatum (Solomon's Seal)*
Pulmonaria (Lungwort)*
Tiarella (Foamflower)
Tradescantia (Spiderwort)
Tricyrtis (Toad Lily)*
Shrubs
Many of the listed shrubs prefer to receive
some sun during the day, or filtered light.
When planted in dense shade, they may
grow slower than usual.
Azalea
Boxwood
Dogwood, select varieties
Fothergilla
Hamamelis (Witch Hazel)
Holly, select varieties
Hydrangea (needs some sun to bloom)
Itea (Sweetspire)*
Japanese Maple
Kerria japonica*
Nandina*
Pieris japonica*
Rhododendron
Serviceberry
Viburnum, some varieties
Wintergreen (Gaultheria)*
Yew*
Ground Covers
Aegopodium (Snow-on-the-Mountain)*
Ajuga (Bugleweed)
Boston Ivy
Convallaria (Lily of the Valley)*
English Ivy
Galium (Sweet Woodruff)*
Lamium (Deadnettle)*
Liriope
Lysimachia (Creeping Jenny)
Pachysandra*
Vinca Minor (Myrtle)*