See below for fruit tree descriptions and info. Click "Shop Now" to be taken to our store and full inventory of trees.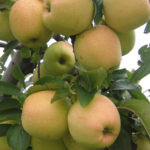 APPLE, GOLDEN DELICIOUS
15-20'H x 15-20'W
Attractive mid-sized tree with showy, pale pink flowers in spring followed by tasty, bright golden fruit. Golden Delicious is a good pollenizer for other apple varieties. Harvest in late September to early October. Deciduous. Sun to part shade.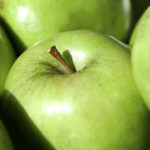 APPLE, GRANNY SMITH
15-20'H x 15-20'W
Fast growing and adaptable to various types of soil. Ripen in early November, and keep their unique tart flavor through winter and even spring! Full sun.
APPLE, GALA
15-20'H x 15-20'W
One of the most widely-grown apple varieties, the Gala matures to a bright overall red color, with bold red stripes over a yellow background. It is aromatic, with a sweet, slightly tart flavor. Full sun.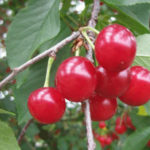 CHERRY, MONTMORENCY
18'H x 20'W
Cold-hardy hybrid species that ripens early in the season. The medium-large bright red fruit has a firm yellow flesh; clear juice; and a rich, tart flavor that bakers and jam makers love. Full sun.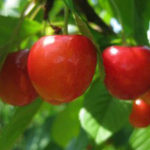 CHERRY, WHITE GOLD
15-18'H x 15-18'W
A sweet cross with great looks and taste. Tree bears gorgeous yellow-blushed-red sweet cherries that mature in mid cherry-season. Disease-resistant to brown rot, bacterial canker, and black knot. Full sun.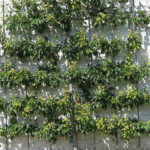 ESPALIER
6'H x 8'W
Espaliering can help keep your fruit trees in check while still providing you with a bountiful harvest. Implementing an espalier tree still requires maintenance throughout your growing season, but no more than any other backyard fruit tree. Full sun.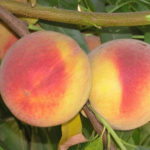 PEACH, ELBERTA
15-25'H x 15-20'W
Tree bears crops of large, attractive yellow fruit with a splash of crimson. Juicy, evenly yellow flesh is great for fresh-eating as well as freezing and canning for extended enjoyment. Ripens in September. Full sun.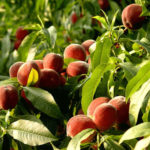 PEACH, RELIANCE
18'H x 20'W
Hardy tree produces a heavy crop of fruit. Fruit is medium-to-large with a sweet, peachy flavor. Features a flush of pink flowers in spring. Ripens in early August. Full sun.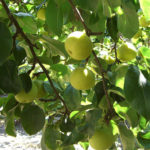 PEAR, 20TH CENTURY ASIAN
12-30'H x 8-15'W
Ornamental fruit tree for your yard. The fruit is delicious, nutritious and easy to grow. As an added benefit, you'll get a show stopping ornamental during every season. Full sun.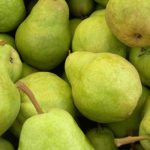 PEAR, BARTLETT
18-20'H x 12-13'W
The #1 pear worldwide! Starts bearing at a young age and is very productive. Fruit features a smooth, firm texture and a juicy, spicy taste. Harvest in late August. Full sun.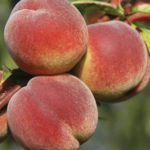 PEACH, RED HAVEN
12-15'H x 12-15'W
Enjoy bushels of large peaches with almost fuzzless skin over firm, creamy textured yellow flesh. Tree is heavy-bearing and easy to grow and maintain. Blooms late to avoid spring frosts. Branches have a spreading nature. Full sun.