OUR CURRENT ADVERTISEMENT
Start Something Beautiful 
Tree & Shrub Sale
Bring Spring to your landscape. Check out our early season selection of freshly dug trees & shrubs arriving soon from our local farms.
Larger Sizes of Flowering & Shade Trees 20-40% Off — Select Varieties of Flowering & Evergreen Shrubs up to 25% Off.
Sale: 3/20/21-6/20/21
View the Martin City Sale Tree List Here
View the Lenexa Sale Tree List Here
View the Sale Shrub List Here
Annuals & Perennials
Fresh, blooming annuals and perennials- many grown on our own local farms and trucked in daily for you!
New Shipments! Tropical Plants- For your deck or patio
Hibiscus Trees
Palms
Ferns
Bougainvillea
Plumbago
Mandevilla
Lantana Trees
Gardenias & More!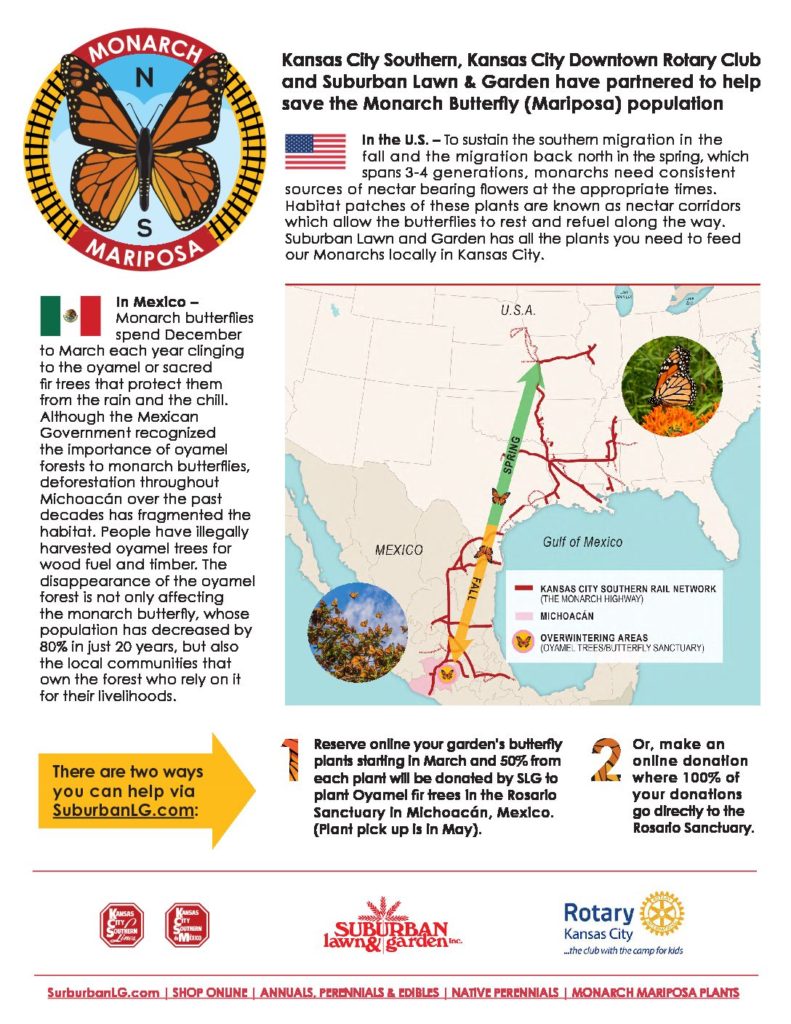 When you purchase any of these Monarch Mariposa Plants, Suburban will donate 50% of the proceeds toward the planting of Oyamel Fir saplings in Michoacan, Mexico.
Don't have room in your garden for any more plants, but you still want to support the Monarchs? *Click on the donation tabs below, and directly fund Monarch Mariposa's purchase of Oyamel Fir Saplings. ($10 buys 21 Oyamel saplings)
Monarch Mariposa is a collaboration between Suburban Lawn & Garden, Kansas City Southern, and the Rotary Clubs of Kansas City and Monterrey, Mexico.