OUR CURRENT ADVERTISEMENT
Spring Arrives
Tree & Shrub Sale
Bring Spring to your landscape. Check out our early season selection of freshly dug trees & shrubs arriving soon from our local farms.
Larger Sizes of Flowering & Shade Trees 20-40% Off — Select Varieties of Flowering & Evergreen Shrubs up to 25% Off.
Sale: 3/20/21-6/20/21
View the Martin City Sale Tree List Here
View the Lenexa Sale Tree List Here
View the Sale Shrub List Here
PREMIER PRO-MIX
Premium, High-Quality Potting Soils
• Ideal for indoor and outdoor use
• Both Bags and Bales Available
• Available at all three Suburban Locations and Online.
Monarch Mariposa Project
Suburban is proud to partner with Monarch Mariposa Project! When you purchase any Monarch Mariposa (Butterfly) Plants, Suburban will donate 50% of the proceeds to conserve the much-needed Oyamel trees in Mexico.
To shop for Butterfly-friendly host plants or donate to Monarch Mariposago to the bottom of this page for more information.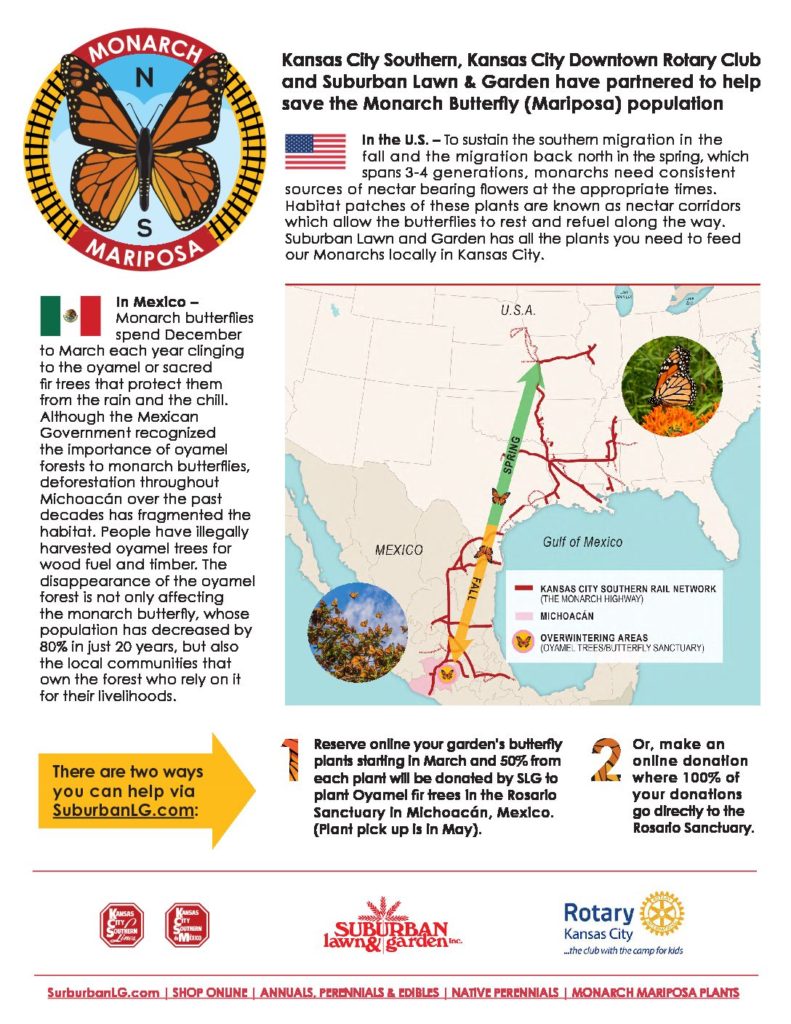 When you purchase any of these Monarch Mariposa Plants, Suburban will donate 50% of the proceeds toward the planting of Oyamel Fir saplings in Michoacan, Mexico.
Don't have room in your garden for any more plants, but you still want to support the Monarchs? *Click on the donation tabs below, and directly fund Monarch Mariposa's purchase of Oyamel Fir Saplings. ($10 buys 21 Oyamel saplings)
Monarch Mariposa is a collaboration between Suburban Lawn & Garden, Kansas City Southern, and the Rotary Clubs of Kansas City and Monterrey, Mexico.